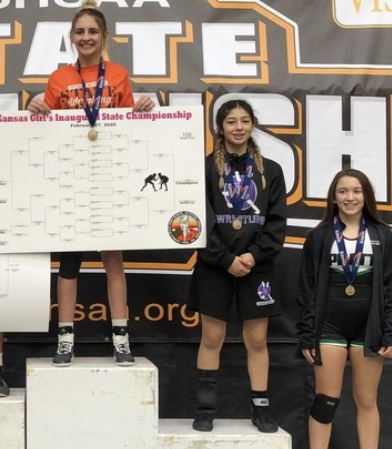 State wrestling roundup
Kevin Thompson
Saturday, February 29, 2020
Ortiz girls, Lovelady compete at state wrestling
Girls state
Two Lakin wrestlers medaled in the first-ever state girls wrestling tournament, and Kade Lovelady won a match at the boys state tournament last weekend.
In Salina at the Tony's Pizza Events Center, Isabell Ortiz placed third and Josiah Ortiz fourth in the state's inaugural sanctioned girls tournament.
At 109 pounds, Isabell Ortiz received a bye in her first round and then took out Amilia Martinez of Holcomb in the quarterfinals in a 15-0 technical fall (4:19).
In her semifinal match, she lost a 7-4 decision to Alexis Allen of Inman.
That loss put her into the consolation semifinals, where she won an 8-0 major decision over Sarah Zimmerman of Hays.
She received a forfeit over Skyleigh Pflaster of Abilene to claim the third-placed title.
Isabell Ortiz finished the season 30-4.
At 101 pounds, Josiah Ortiz won by technical fall 15-0 (4:39) over Alexandria Buce of Shawnee Heights.
In her quarterfinal, the freshman got a fall (5:56) over Rylee Cagle of Fort Scott.
She lost a 3-1 decision to Kassidy Leiszler of Concordia in the semifinals.
Josiah Ortiz Ortiz picked up an 8-0 decision over Mana Chanthansone of Liberal.
She lost a 10-4 decision to Breckyn Elliott of Great Bend to finish fourth.
Josiah Ortiz finished the season 27-6.
Lakin finished seventh with 35 points.
Boys state
At the Class 3-2-1A tournament at Fort Hays State University, Lovelady got one win in his three matches.
Wrestling at 152 pounds, the junior lost his first match to Jeb Nowak in a 13-5 major decision.
In the consolation round, Lovelady defeated Alex Warner of Waubansee 6-4.
In his next round, Tristan Rathbone pinned Lovelady to end Lakin's run in the tournament.
Lovelady finished his season at 16-18.