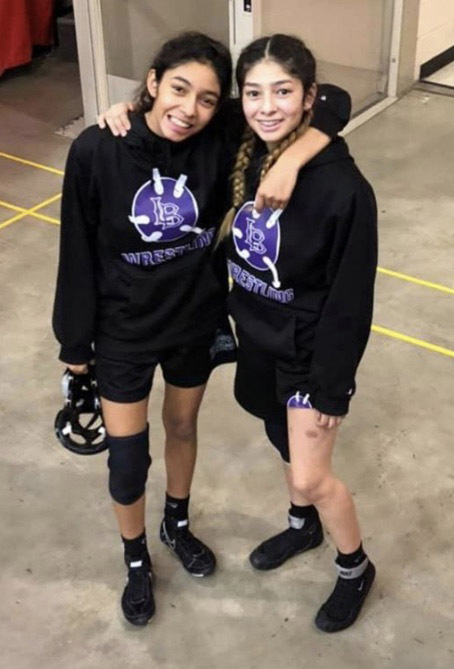 Two girls qualify for first-ever state wrestling tournamnt
Kevin Thompson
Sunday, February 16, 2020
Girls qualify for state wrestling
Josiah Ortiz and Isabell Ortiz made history last weekend, qualifying for the first-ever KSHSAA-sponsored state wrestling tournament.
Isabell Oritz placed first at 109 pounds, while Josiah Ortiz was third at 101.
Both qualified at the West Regional tournament in McPherson last Friday and Saturday.
They will wrestle in the first state-sanctioned tournament in Salina Feb. 27 at the Tony's Pizza Events Center.
Sophomore Isabell Ortiz pinned four girls on her run through to the finals before losing an 8-6 match in the first tiebreaker.
She picked up an opening fall (3:17) over Clarice Nichols of Wichita Heights. Next, she got a fall (1:53) over Casie Heron of Chase County.
In her quarterfinal round, Ortiz got a fall (3:29) over Amilia Martinez of Holcomb.
In her semifinal round, the sophomore got the pin at 5:15 over Sarah Zimmerman from Hays.
Freshman Josiah Ortiz at 101 pounds had a first-round bye. In her second match, she won by a 16-0 technical fall over Jasmin Beltran of Dodge City.
She followed that with a 15-0 tech fall over Lainie Burkhart of Goddard Eisenhower.
Ortiz lost an 8-4 decision to Breckyn Elliott of Great Bend in the semifinals, which sent her to the consolation side on Saturday.
In her semifinal match, the freshman got a 5-4 decision over Chloe Sullivan of Garden City.
She won her third-place title with an 8-7 decision over Mana Chanthansone of Liberal.
Isabell Ortiz takes a 27-3 record into state, while Josiah Ortiz is 24-4.